1. Building Permits
Every project begins with a Building Permit. The permitting process varies with the surrounding states, counties, cities, and neighborhood HOAs. The length of time necessary to obtain a permit also varies widely by jurisdiction. At Brunetti Pools, we are familiar with all of the local municipality requirements and regulations and will handle the complete permit process including all normal costs involved in obtaining the proper permits.
2. After the Building Permits are received
The real excitement begins! Your Brunetti Pools job supervisor will meet with you to determine the pool layout and final pool elevation. Site access will be determined at this meeting and a preliminary excavation date is scheduled.
3. Finish Materials Selection
Be ready to let your imagination take flight during this design process. We are currently showing tile samples from National Pool Tile. You will enjoy seeing the complete display of PebbleTec interior finishes. Your interior pool finish colors and textures, lighting and equipment, tile and coping choices will be finalized before excavation to assure the most aesthetically pleasing fixtures for you pool.
4. Excavation
It's the big day! We have marked your property and the machine is on sight ready to begin digging. We will want you to be onsight for a final sign off with your project manager on the pool layout and elevation. Excavation time varies depending on site and soil conditions, however in most cases are completed in one day. At excavation completion, we will set and pressurize the main drain lines and install the pool light niches. You will have access to your project manager's cell phone for any questions or concerns that develop during the constructions process.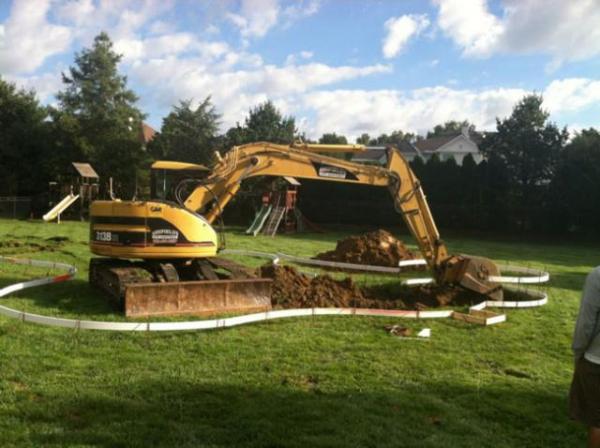 Our philosophy is simple: "Exceed our client's expectations by building only the very best swimming pools in the industry"